Girls' Living Life to the Full challenge winners announced!
Published on October 10, 2019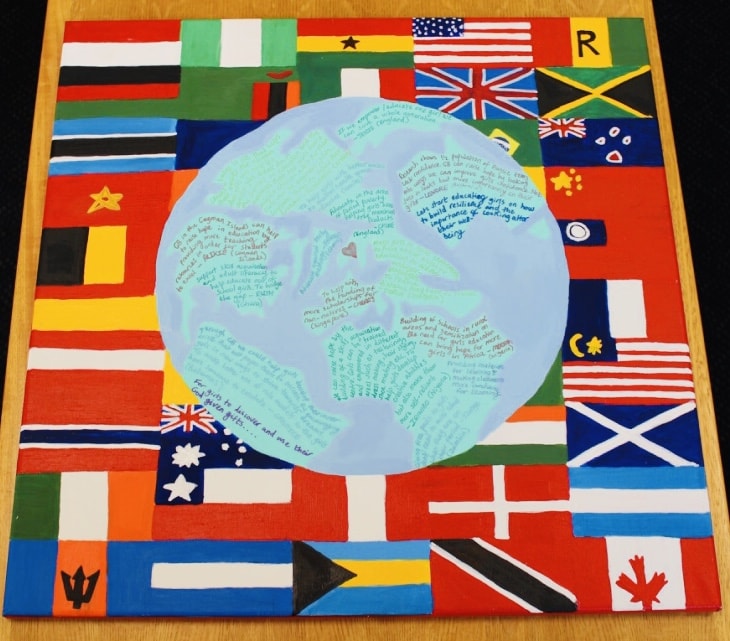 Girls' Brigade International (GBI) is delighted to announce the winners of the Girls' Living Life to the Full challenge.
18-25 category winner: Jessie Emms from Girls' Brigade England & Wales
2nd place to Veronica Chita from Girls' Brigade Zambia.
13-17 category winner: Chloe Treagus from Girls' Brigade Scotland
2nd place to Precious Ebong from Girls' Brigade Nigeria.
Reflecting on this question 'What is your hope for girls around the world today?', the challenge was to produce a creative response sharing your thoughts and ideas. This could have been a poster, collage, sculpture or photograph.
Prize winner Jessie Emms created an original painting and shares:
'My creative advocacy response was in the area of girls' education and it took the form of a rather large hand painted canvas. I wanted to visualise my hope filled response to the education injustice around the world. To do this, I places God's world in the centre with a back ground of flags from around the globe representing countries GB is working in but also countries GB is yet to reach. Within the globe I drew our 5 different fellowships and collated responses from my GB sisters worldwide on how we can raise hope for girls in the area of education in each area through the work of GB. The injustices differed from country to country so I made sure my response was representative of all fellowships challenges in the area of education. For example, period poverty, access to mental health support and lack of resources and role models were key themes that create barriers to girls getting the education they deserve.'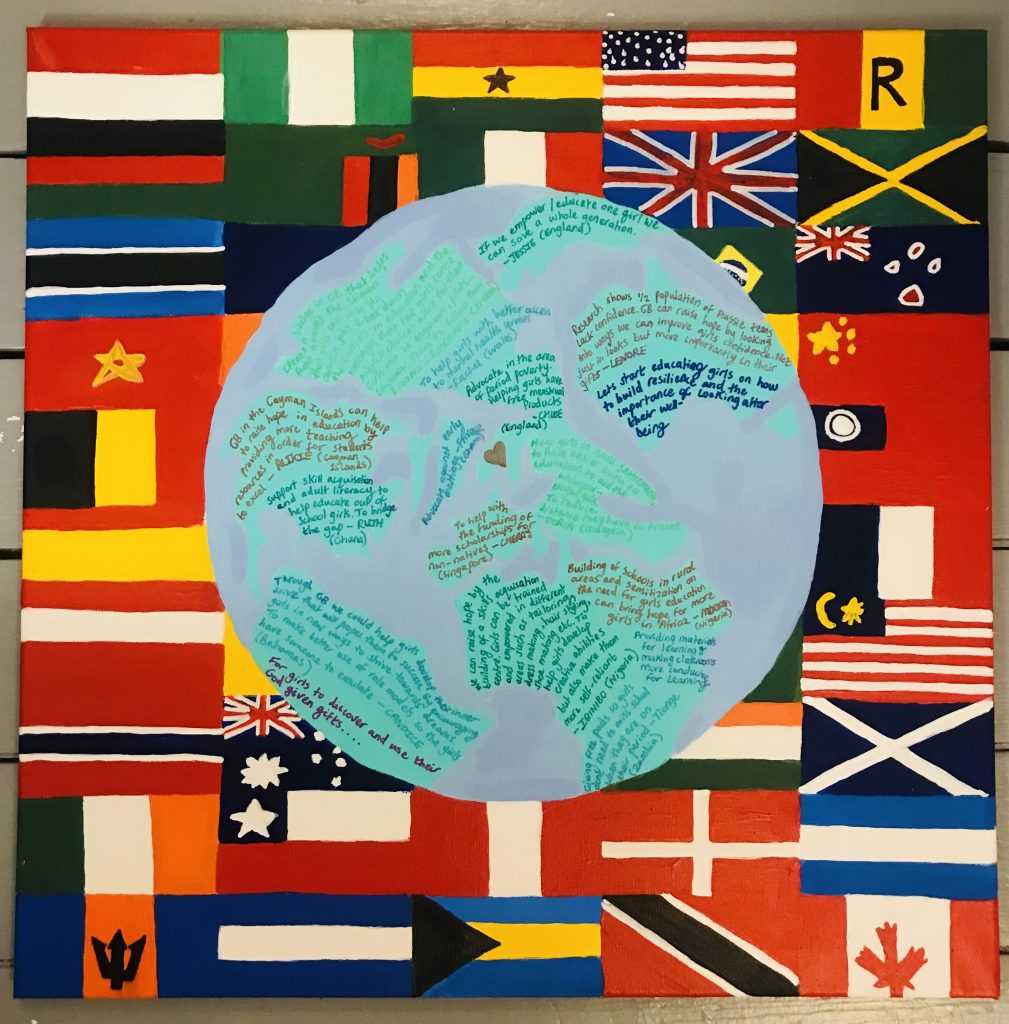 Jessie shares her excitement of winning the Girls' Living Life to the Full challenge: 'After winning the challenge and getting over the initial shock, I feel truly overjoyed. If really believe that if we can educate one girl, we can educate a whole generation. We can break down those barriers and bridge those gaps. And I am SO excited to be part of a movement that is continuing to raise hope for girls around the world.'
Jessie's prize is a funded place to be part of GBI's Delegation of Hope at the United Nations (UN) Commission on the Status of Women (CSW) in New York City in March 2020 or the International Conference of Girls' Brigade (ICGB) in 2022.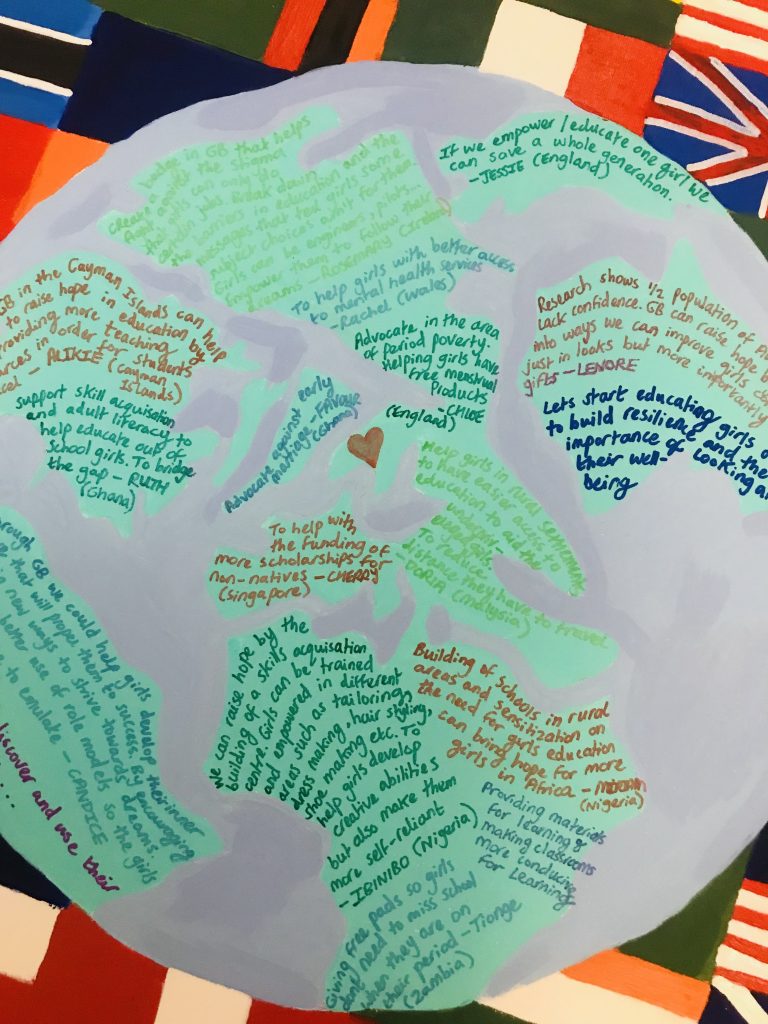 Veronica Chita from GB Zambia was placed second with her poster about girls' education. Veronica shares: 'My hope for girls is to insure that girls have access to quality education around world and creating a safe learning environment for these girls. I chose to participate in the challenge because I wanted to be a part of fulfilling the Girls' Brigade vision which is to ensure that girls' lives are transformed and Gods world is enriched. I saw this challenge as a platform and opportunity to let the world know about how true passion can bring about change through Girls' Brigade.'
International President Priscilla Penny congratulated both Jessie, Veronica and all participants in the challenge. Priscilla exclaimed:
'There are many great things about being a girl in today's world… but unfortunately, there can also be many challenges that girls encounter in their communities (some simply because they are born a girl). This isn't fair. Girls' Brigade believes that God wants girls to live 'life to the full' (John 10:10); that He wants to use girls as hope-bringers, generation-shapers and transformers. It is wonderful to see how God is using Jessie, Veronica, Chloe, Ebong and all participants to make the world a more fairer and hope-filled place.'