DIGITAL REVOLUTION? NOT WITHOUT GIRLS!
Published on October 11, 2021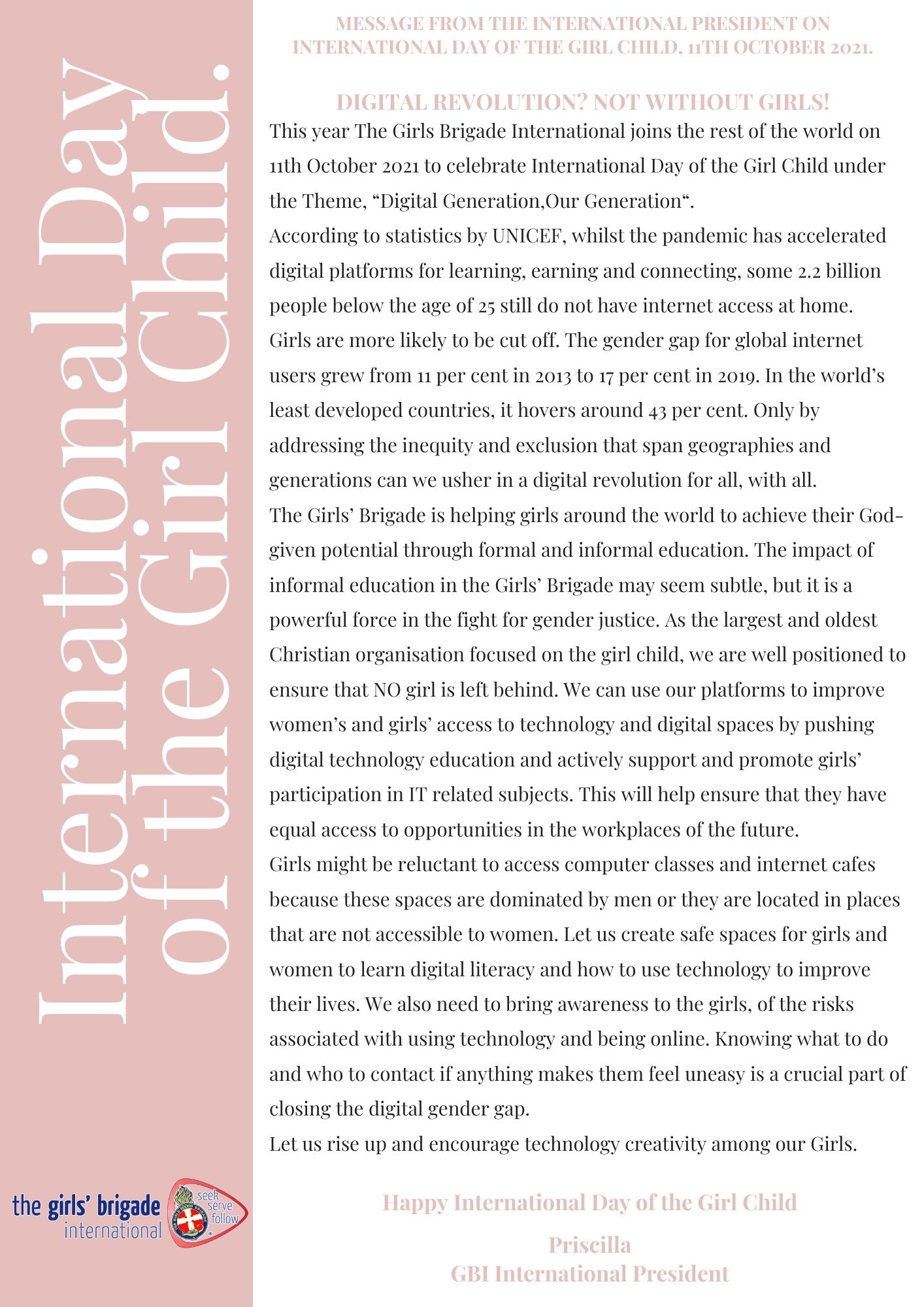 MESSAGE FROM THE INTERNATIONAL PRESIDENT ON INTERNATIONAL DAY OF THE GIRL CHILD, 11TH OCTOBER 2021.
This year The Girls Brigade International joins the rest of the world on 11th October 2021 to celebrate International Day of the Girl Child under the Theme, "Digital Generation,Our Generation".
According to statistics by UNICEF, whilst the pandemic has accelerated digital platforms for learning, earning and connecting, some 2.2 billion people below the age of 25 still do not have internet access at home.
Girls are more likely to be cut off. The gender gap for global internet users grew from 11 per cent in 2013 to 17 per cent in 2019. In the world's least developed countries, it hovers around 43 per cent. Only by addressing the inequity and exclusion that span geographies and generations can we usher in a digital revolution for all, with all.
The Girls' Brigade is helping girls around the world to achieve their God-given potential through formal and informal education. The impact of informal education in the Girls' Brigade may seem subtle, but it is a powerful force in the fight for gender justice. As the largest and oldest Christian organisation focused on the girl child, we are well positioned to ensure that NO girl is left behind. We can use our platforms to improve women's and girls' access to technology and digital spaces by pushing digital technology education and actively support and promote girls' participation in IT related subjects. This will help ensure that they have equal access to opportunities in the workplaces of the future.
Girls might be reluctant to access computer classes and internet cafes because these spaces are dominated by men or they are located in places that are not accessible to women. Let us create safe spaces for girls and women to learn digital literacy and how to use technology to improve their lives. We also need to bring awareness to the girls, of the risks associated with using technology and being online. Knowing what to do and who to contact if anything makes them feel uneasy is a crucial part of closing the digital gender gap.
Let us rise up and encourage technology creativity among our Girls.
Happy International Day of the Girl Child.
Priscilla Penny
GBI International President