Distinguished Service award 2018
Published on April 9, 2018
The Zambia Woman Days's Board have awarded their Distinguished Service award 2018 to our very own ex International President Mrs Ruth Chikasa. Congratulations to you Ruth! The award is in recognition of her services in improving living standards in rural Zambia and for her role in advocacy work in GB worldwide.
Ruth says, 'This award is for every leader and young girl in Brigade who dares to dream. I thank GBI for giving me a platform from which I could dance and be noticed! But no one dances without a drummer and singers, so this is to all of us who produce the music, the rhythm and the stage for transformation to take place in the lives of all those we are so privileged to serve! To you my co workers in Christ, this award is for you too! You are my Women of the Year each and every year!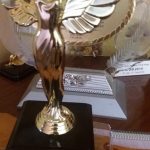 This is a story about Girls' Brigade Africa
Girls' Brigade Africa is represented in 12 countries on the African continent with a membership of almost 30,000. Africa is full of diversity in culture and ministries which makes it a unique continent.
International Vice President: Aruk Omori
View the Girls' Brigade Africa website