Girls' Brigade releases new GB's 'Raising Hope' Advocacy Toolkit on International Day of the Girl.
Published on October 10, 2018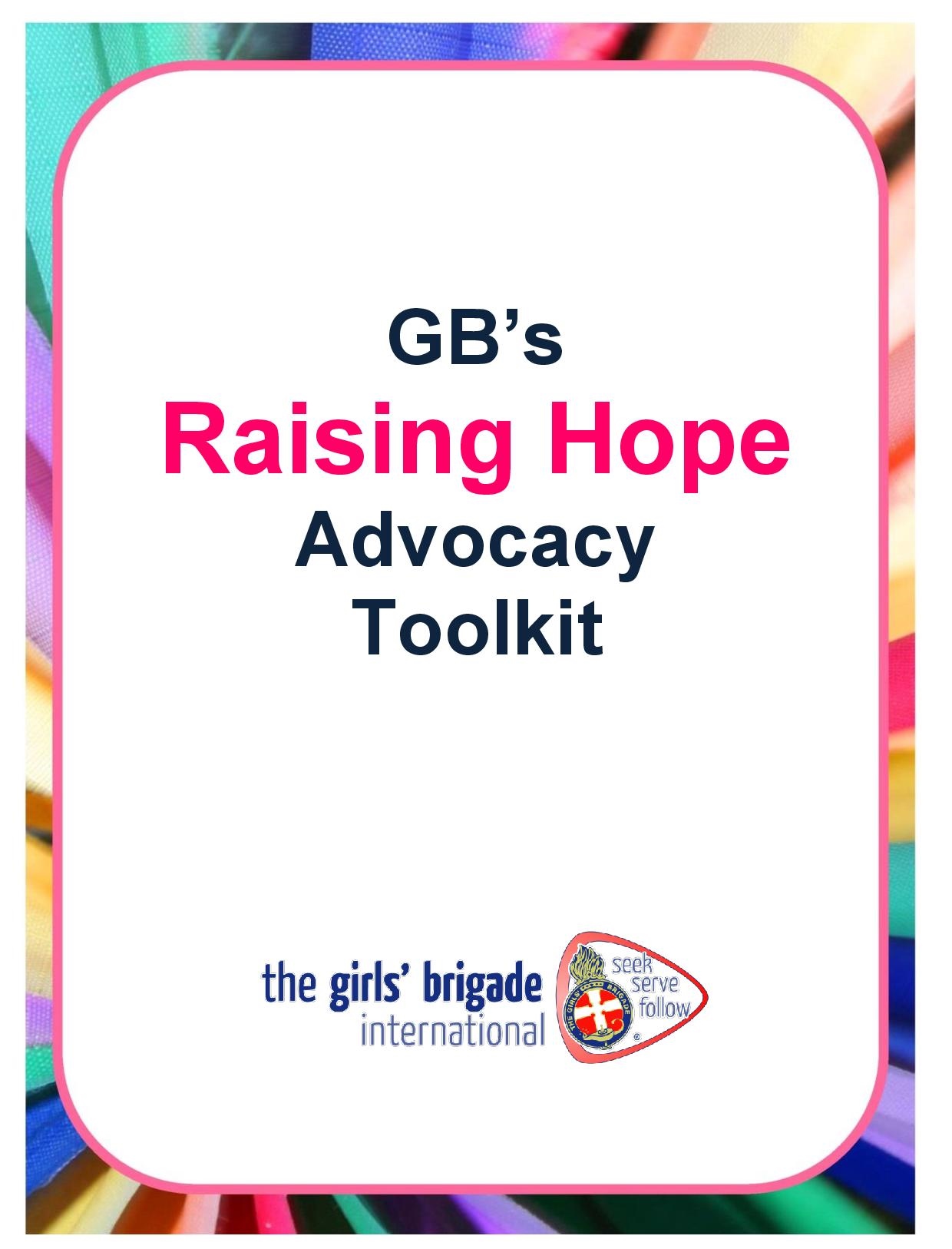 On International Day of the Girl (11 October 2018), Girls' Brigade International launched a free resource for local Girls' Brigade leaders called GB's 'Raising Hope' Advocacy Toolkit. [Download it from the link at the bottom of the page].
The Advocacy Toolkit is part of GB International's on-going advocacy strategy to enable girls and young women to turn up the volume of hope in their own communities. The toolkit has two specific aims:
To equip GB leaders (particularly at local level) to be strategic and intentional about advocacy
To empower girls and young women to be at the centre of leading social action initiatives to transform their own communities
There are many definitions of advocacy but Girls' Brigade believes it is 'bringing God's hope to people (particularly girls and women), who are experiencing injustice in order to bring about transformation in lives and communities.'
Girls' Brigade International President Mrs Priscilla Penny from Zimbabwe shares: 'When Margaret Lyttle established GB in 1893, she was advocating with and for girls. In other words, she was helping shape a different and more hope-filled future for girls. Advocacy – raising hope for girls – is in our DNA. The Advocacy Toolkit features stories of how Girls' Brigade members across the world are transformers, generations-shapers and hope-bringers! This resource will help enable them to challenge injustices in their own community in creative ways and transform lives which will have long-lasting impact.'
The free resource can be used by leaders to facilitate girls and young women (10-18s) and can used at any time during the GB year. Each of the six sessions contains creative activities with a Biblical focus including games, art, team-building, discussions and creative prayers and explores:
a common understanding of advocacy and injustice through interactive activities
how Girls' Brigade members are and can be advocates of God's hope and life in our world today
where the deficit of hope is in local communities and helps young people decide on one key injustice to transform
the root causes of injustice and demonstrates how problems can be turned into opportunities for change
how to plan an advocacy initiative which will challenge structural inequalities
how God calls us to 'live justly' every single day.
Dr Claire Rush, International Vice-President for Europe, shares: 'Through this resource, young people will gain an understanding that advocacy is not just a one-off initiative or campaign – it is part of our rhythm of discipleship with Jesus who calls us to 'live justly' every day. Following Jesus is a whole-life adventure. This resource will also challenge our perception of real change and transformation. The brokenness in the world can only be restored by Jesus but He calls us to partner with Him to renovate reality. Each of us has an important role to play in transforming our communities. Use the Bible studies, discussions and creative prayer activities in this resource to challenge the young women with this question: do they know the transforming power of Jesus in their own life?'
The launch of GB's 'Raising Hope' Advocacy Toolkit follows the exciting announcement last week that Girls' Brigade International has been accredited with special consultative NGO status by the United Nations. This is an integral part of Girls' Brigade International's future advocacy strategy moving forward and an achievement to celebrate on our 125th birthday year. You can read more here.