ICGB 2018
Published on December 16, 2016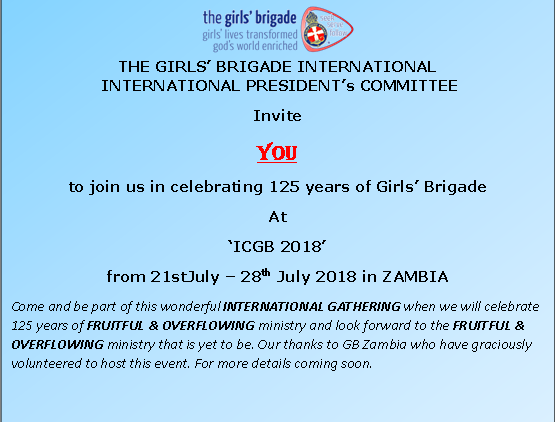 ICGB Update
DATES: 21 – 28th July 2018 with flexibility regarding extra days for those wishing to arrive early/stay late
LOCATION: Chrismar Hotel Conference Centre,   Livingstone,   Zambia
TRAVEL: to Livingstone  International  Airport
ACCOMMODATION: shared rooms with a supplementary charge for single rooms
COST: US$750 per person (Plus any bank charges to ensure full amount is transferred )
AGE: all delegates must be over 18 years
ATTENDEES: there will be two categories of attendees:
Delegates: these are to be selected by the National Boards following whatever local protocols they may choose. Each country may have up to 10 official delegates 50% of whom should be under 35 years.  These delegates will have voting rights.
GB Friends and Supporters: these are independent GB members, friends or supporters who wish to immerse themselves in all that ICGB has to offer. They will be responsible for their own funding, will be able to attend all sessions but will not have voting rights. Places for GB friends will be available on a first come first served basis.  Those wishing to attend should liaise with their National Office.
REACH OF CONFERENCE – as this is our 125 year celebration we would like to sponsor delegates from some countries who would not otherwise be able to afford to send a delegate. Any national board or individual who would like to volunteer funds for this should please advise GBI
REGISTRATION FORMS – can be found here
THEME – the conference theme will be FRUITFUL & OVERFLOWING