LEAD//FOLLOW online equipping webinar for leaders – How to use social media effectively in GB.
Published on February 17, 2021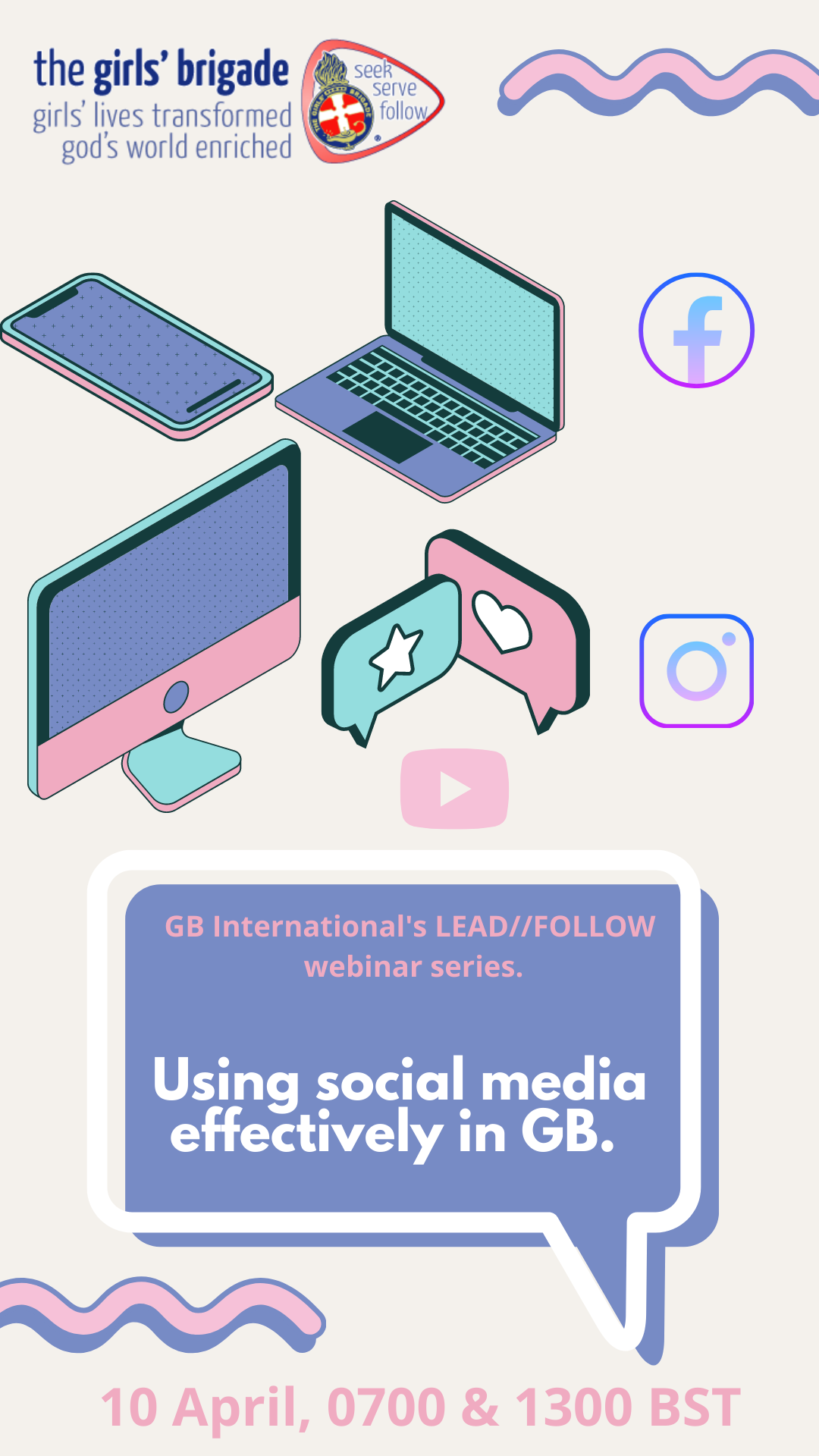 Join with Thio Lay Hoon, former executive director of GB Singapore, to explore how we can social media more effectively in Girls' Brigade.
Saturday 10 April 2021, 0700-0830 & 1300-1430 (BST, UK time)
Please check the time in your own country here
(be aware we are now on BST not GMT)
You can book online here.
Booking will close on Wednesday 7 April at Midday UK time.
The webinar will be led Lay Hoon from GB Singapore.
Lay Hoon started her career in publishing in the 1990s and went on to marketing communications in an IT company. She is currently in International Relations in an Institution of Higher Learning. Lay Hoon joined the Girls' Brigade in 1976 and became an officer some 30 years ago and is currently serving as Secretary on the GB Singapore Executive Board. She was Executive Director in the GB Singapore Office from 2006 – 2010.
The webinar will explore the following questions:
What are the different forms of social media?
What are the positive uses of social media?
How can we use social media effectively in GB to communication and build community?
What are some of the pitfalls to be aware of?
LEAD//FOLLOW is a series of online equipping webinars for GB leaders and officers which will run from September 2020 to June 2021. Each webinar will be led by expert facilitators inside and outside the GB family and are free for GB leaders. The 90 min webinar will be held by Zoom and accessible to GB leaders to join live online.
Please note that spaces on each webinar is limited and will be allocated on a first come, first served space. Please only book if you're able to attend.
If you're a registered GB leader/officer, you can book online for this webinar here.
On the day, please ensure that you're logged into the Zoom call ready for the meeting to begin about 5-10 minutes before. Zoom is a really easy piece of software to use. Here is how you can download the software to your computer in advance. It's best to use it with a laptop with a webcam. We'd love to 'see' you!
Please contact girlsbrigadeworldwide@gmail.com if you have any problems.