Meet Girls' Brigade Advocates from around the world…
Published on October 9, 2019
Girls' Brigade is blessed with so many young women who are passionate about transforming social injustices and turning up the volume of hope for God's people. We're so inspired by their example. We hope you are too.
Meet Nelly, 29, from Kapata GB Company in Zambia.
I have been involved in a number of advocacy initiatives which seek to prevent early marriage in Zambia and remove stigma from HIV/Aids patients. One of the main injustices that I am passionate about transforming is girls missing school in Zambia simply because they are menstruating. Because of the lack and unaffordability of sanitary pads, girls can skip school and miss lessons three days each month. I believe that a girl should be in school at all times regardless of whether she has her period or not. This really challenged me to join a friend who ran a project called Girl Solidarity. The main focus of this project was to help girls to stay in school by providing them with school books, clothes, fees and reusable sanitary pads. At schools, we also helped the girls by teaching them on how to make a hygiene sensitive reusable pad and how to keep it clean.
I am currently advocating for free sanitary pads to be given to all girls and to be put in schools for all girls to have access to them. When girls miss school, this deprives them to the right to achieve their ambitions and to make a difference to their community, nation and the world at large. When you educate a women, you educate a nation.
Meet Dange, 26, from 1st Koko Company in Papua New Guinea.
For me, Girls' Brigade is a huge part of my life. GB has helped me accept myself the way God made me. After attending The Gathering 2013 in Cape Town, I came back with a fire in my heart to help girls value themselves and more so value their education.
One key social injustice that many girls in Papua New Guinea face is access to education. Many girls are not in school and those in school, when they don't make it up to the next level, they are told to remain home or get married. As much as possible when given the opportunity I love talking to girls and sharing experiences and stories of key woman figures who have made their mark in the world only because they valued themselves enough and looked after their education. Through GB camps, I have been able to equip other GB girls in advocacy skills and to encourage them to pursue their education as it will open many doors of opportunities.
Meet Felicia, 24, from 45th Singapore Company.
GB has transformed my life by pointing me to Christ, giving a safe space for me to grow, and allowing me to live purposefully.
While I studied in UK, I became aware of the migrant and refugee crisis in Europe. When I returned to Singapore, which does not take in refugees, I sought to serve another community that was often vilified and treated not as people to be empathised with but as dispensable commodities – migrant workers. Singapore hires a large number of migrant workers, mostly from Bangladesh, India and China, to do low wage manual jobs in the construction or shipping industries, or jobs considered to be less dignified, such as cleaning and death-related industries. I volunteered at Transient Workers Count Too (TWC2) where I issued meal tokens to migrant workers who were not allowed to work while they were claiming compensation for injuries, unpaid salaries or undergoing investigations. This role allowed me to be the first point of contact for workers who required assistance in filing claims and other matters, by listening to their situation and directing them to the various services that TWC2 provides. I learned more about the complexities, systems and laws in place that created an environment that facilitated the abuses and constrained the workers' ability to seek redress. Another social enterprise, Migrant X Me, conducted a learning journey for the girls in my GB company, and many of the girls shared that their eyes were opened to their assumptions and the poor working and living conditions of the workers. From that experience, a group of girls decided to advocate for migrant workers to their schoolmates, and since then, I have been mentoring them in their research and various advocacy initiatives.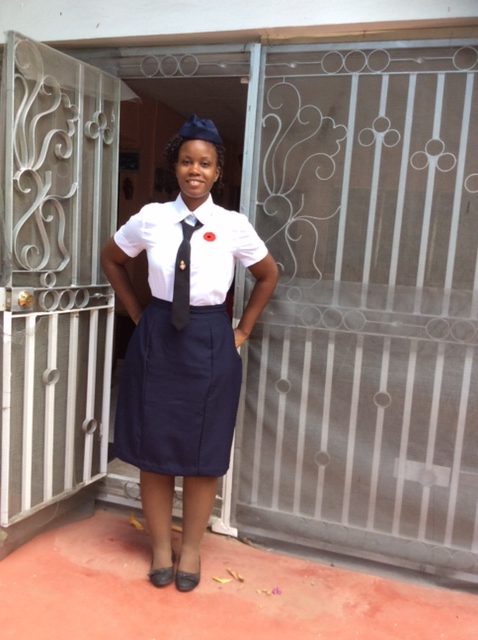 Meet Loshauna, 26, from 13th St. Catherine Company in Jamaica.
I have seen a lot of injustices in my community and in Jamaica. I see it every day when I see girls bleaching their skins to a lighter colour. Girls do this because they think that people who have a lighter complexion are afforded more opportunities and are considered more beautiful. I think that it is very disheartening to see someone bleaching their beautiful black skin given to them by God our Creator Himself. I try to transform this injustice by encouraging the girls in my GB and my Sunday school class to understand that we are created in God's image. No matter what our race, culture or complexion, God loves us unconditionally. We are all fearfully and wonderfully made by the Creator Himself.
I was once a shy, timid and reserved individual who joined Girls' Brigade with big dreams and ideas on how to make a difference in my community, but now I am a bold, fierce and motivated woman who will chase those dreams and execute my ideas to do God's work to the best of my ability.