Meet the GBI's Delegation of Hope team to the UN
Published on December 11, 2019
In March 2020, a team of younger GB leaders from across the Five Fellowships will travel to New York to represent Girls' Brigade International at the UN's Commission on the Status of Women, the world's largest global policy making forum on gender justice.
The team has been appointed after an intensive application process which involved online applications, videos and interviews. GB International's President Mrs Priscilla Penny shared: 'This initiative has been wonderful opportunity to learn more about the many passionate and talented young women who are part of The Girls' Brigade global family. The creativity of our younger leaders and their passion for turning up the volume of Gospel hope for girls is infectious. Thank you to everyone who applied; we're grateful for your courage to step up for this opportunity and excited to see how God will continue to use you in your own spheres of influence.'
More information about GBI's Delegation of Hope team will be released soon but we'd love to introduce you to our fantastic team.
Meet Ruth Utulu, 31, from Abakaliki. She has been a member of GB for over 28 years and belongs to 1st ECWA Company, Abakaliki in Nigeria.
Ruth has over 9 years of proven track record in girl's child activism, mentoring, empowering and leading women in creating safe spaces for young girls. Ruth holds a bachelor degree in Physics and Education and master's degree in Educational Administration and Planning alongside other certification. She currently serves as the State Coordinator for Girls' Brigade Ebonyi State, where she overseas creation of Girls' Brigade Companies which are a safe haven for young girls to network, build self-esteem, learn skills and to find true enrichment in life.
Ruth is committed to educating, empowering and enlightening the girl child because she believes that it is a viable tool for a Nation's development and advancement. She is working for gender equality, equal pay and opportunities for women and girls.
Because of Girls' Brigade, Ruth became a committed Christian, learning about Christ and his ways. Girls' Brigade instils oneness in the body of Christ which helps to embrace other Christians and denominations. She learned selflessness and service in
Girls' Brigade which has led to the advocacy work she does today in championing the cause of the Girl Child. Ruth has built leadership skills, communication skills, teamwork, project planning and management and lots of other skills. Because of Girls' Brigade Ruth has gained lots of exposure meeting people in spheres she ordinarily wouldn't have.
Ruth is excited about the rare opportunity to attend UNCSW because she believes it will avail the opportunity to watch, listen and learn how policies are made and shaped for a just society. She is also excited for the opportunity to network with other young people driving social change in their different spheres. Ruth is also excited that she will have the opportunity to work alongside other Girls' Brigade members across the globe to share with the world the work we do at GB.
Meet Hannah Morpeth, 25 from North East England. She has been a member of GB for 20 years and belongs to 1st Windy Nook Girls' Brigade.
Hannah is a 25 year old mental health nurse living and working in the North East of England. She has attended her local Girls' Brigade group since she was five years old and is currently a leader of the n:spire (14-18) section there. Hannah loves creative writing, facilitating creative writing workshops and going to the theatre. She goes to worship in the church her GB group is at and has recently started a worship leader course to enable her to contribute more within the church.
Hannah feels really passionate about giving Christians access to a more helpful, hopeful narrative around mental ill-health. There is a big gap in this area presently, often Christian people are given access to a purely medical or a purely spiritual response whereas a helpful response often lies somewhere in the middle of both. There is a risk that without this there is a barrier to people being able to access mental health care and treatment. Hannah is also a member of the GB Europe Executive team and in this role, led a mental health workshop on a mission extension trip to Macedonia.
Because of GB, Hannah is inspired. Girls' Brigade has given her so many incredible opportunities in her life which have improved her world view, confidence and faith. She would never have dreamt that these opportunities would exist to her let alone that she would take them, and they have such an impact on her life.
Hannah is really excited to be part of a multi-cultural team that is brought together with the commonality of Girls' Brigade and a passion for gender equality. She is looking forward to the impact this could have not only on a global platform but also the inspiration this will give to girls in local GB groups. The Delegation of Hope is an exciting opportunity that brings together lots of Hannah's passions and she is looking forward to seeing the positive impact this can have on Girls' Brigade International.
Meet Ronnell Roberts-Reid, 27, from Trinidad & Tobago. She has been a member of GB for 20 years and belongs to 19th Trinidad Company.
Ronnell is a consultant by profession and an officer in GB. She joined GB at the age of 8 and left after being a young leader for a year to pursue her bachelors. Upon her return home from university she did not hesitate to pick up where she left off and is now an officer teaching the Explorers (5-9 year olds). Ronnell is passionate about education and social stereotyping. She believes that stereotypes exist because there is some truth behind it, however it is 2019 and things are changing. People are re-writing the narrative.
A key injustice that Ronnell is passionate about transforming is stereotyping based on your address. Growing up in the "ghetto" she has encountered numerous occasions where people created a narrative for her based on her address alone and it happens to this day. There is even a tag line that is quoted whenever someone from Laventille achieves something outside of the narrative 'Good things do come from Laventille'. Ronnell's community may not be perfect but the fact remains "Where is?" Good people can come from anywhere and Ronnell is a proud 'Laventille-ian'. She is fighting this injustice by using GB as her platform. It gives Ronnell the opportunity to engage with young ladies and let them know that they are more than the label society places on them.
Because of GB Ronnell is who she is today. GB played a vital role in her development and provided her the opportunity to grow and develop with fellow Christian young ladies. From the time Ronnell joined GB she started to find her voice. She was always shy but through GB she was able to become more social. Ronnell also believes that being a part of GB helped her to remain grounded in her faith and birthed her love for teaching and helping other girls find their purpose through God by interacting with the younger girls whilst she was in Seniors and Brigaders.
Ronnell is excited about being a part of the Delegation of Hope team since it will allow her the chance to be in the forefront when it comes to fighting social injustice. She usually voices her opinion via discussions amongst family, friends etc. It will also allow Ronnell to network with likeminded people – that is, people who are passionate about fighting social injustice. It will give the team the opportunity to share their ideas with each other and hopefully successfully implement a few.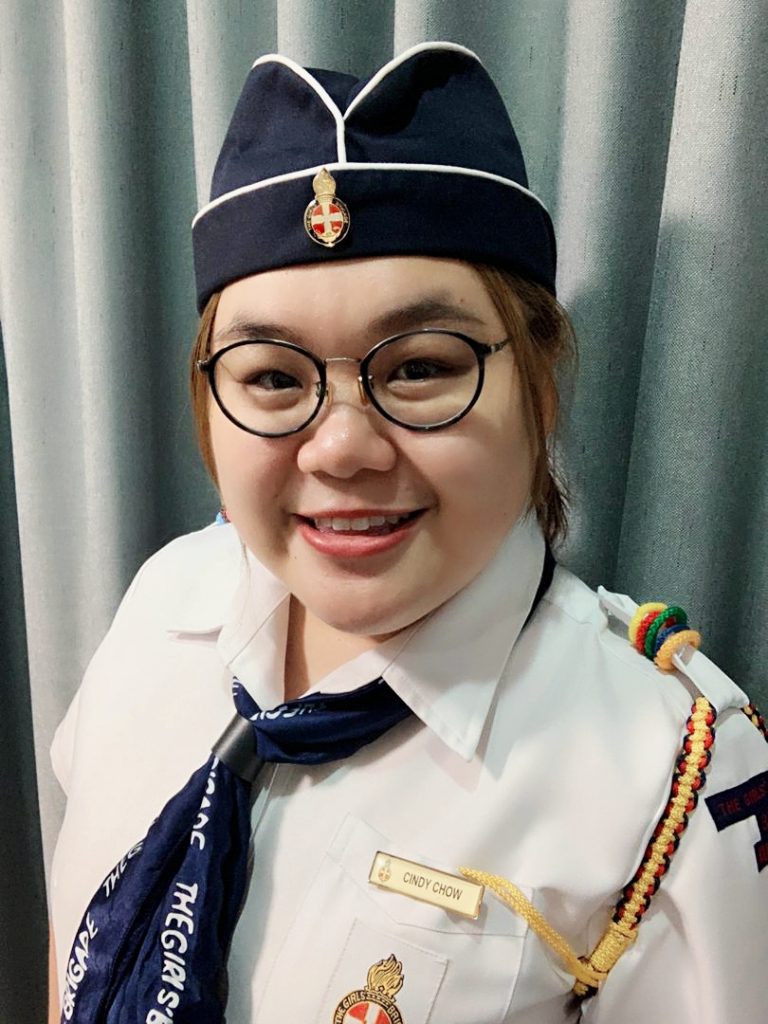 Meet Cindy Chow Li Teen, 30 from Kuching, Sarawak, Malaysia. She has been a member of GB for 16 years and belongs to 3rd Kuching Company.
Cindy is the youngest in the family of three. She is married to a teacher and they've been together for the past year. Cindy is a graduate of Multimedia University, Malaysia and practised law since 2013. Currently, she is running her firm along with two other partners. She joined GB as a girl since High School and now serves as a GB officer, since 2015. Cindy believes in doing things justly, being merciful and to walk humbly with God as it was taught in Micah 6:8.
Cindy is passionate about providing all children especially girls a safe place where they can grow, learn and live up to their potential. She also wishes to provide these girls with equal opportunity in terms of education, livelihood and freedom of religion. Young children especially girls should be granted these basic rights so they can grow to be leaders of tomorrow.
Because of GB, Cindy is a strong, independent and resourceful woman who is not afraid to voice opinion and to speak out for the voiceless. Through her years in GB, she is better able to navigate in this ever changing and challenging world. Cindy found her calling in GB and it is her privilege to serve in GB as a way of giving back and to nurture young girls how she was been nurtured. It is her vision that more girls can be part of GB and it is her hope and prayer to see girls achieving their potential through GB and to know God more.
Cindy is excited about being part of the GBI's Delegation of Hope team as she hopes to network with other GB leaders as well as leaders from different organisations of different aspects. She hopes to also share with more people on how and what GB can do in helping girls' life to be enriched. By networking, we can create a more impactful force through GB. Apart from that, Cindy would like to inspire her girls and other young ladies, as long as they are persistent and they hold on to a strong and correct principle in what they do and God as our strength, we are able to achieve our dream.
Meet Caitlyn Robinson, 18, from Brisbane, Australia. She has been a member of GB for 7 years and belongs to 45th Brisbane Girls' Brigade.
Caitlyn is a university student currently studying a double degree in Nursing and Psychology. When she is not studying, she works as a waitress and runs a little business, Cait's Charity Cards. Caitlyn also enjoys sewing, playing with her cat and catching up with friends. She is currently completing her Queen's Award with Girls' Brigade and looks forward to attending GB at her local church every Friday.
Caitlyn is a passionate advocate for women's education. She believes that education is a foundation for improving the quality of life for many women around the world. Educating girls has been identified as a way to reduce child marriages, reduce poverty and even combat climate change. Caitlyn is excited to see how we can shape the future of education to improve the lives of girls and women globally.
Because of GB, Caitlyn is empowered to fight for causes she believes in. At Girls' Brigade, she is surrounded by women who are passionate about social justice. Her leaders and friends have always been supportive of her charity work; their encouragement is invaluable. She loves that Girls' Brigade equips girls to make a difference and speak up about issues they are passionate about.
Girls' Brigade has long been a place where girls are empowered to make a difference. Caitlyn is excited to be part of the Delegation of Hope, because she knows that GB can provide a unique perspective on gender equality and religion. Being provided with the opportunity to network with women from around the globe is a fantastic way to strengthen Girls' Brigade bonds across the fellowships.
The team will also be joined by Jessie Emms, winner of the Girls Living Life to the Full challenge (find out more about Jessie below). Please click here for more information about the competition and please keep praying for all the team members.
Meet Jessie Emms, 22, from England. She has been a member of GB for 17 years.
Jessie is described as a coffee fuelled 22 year old who is sensitive to social injustice and passionate about raising hope for women. When she's not volunteering for Girls' Brigade it's because she's at work. She is employed full time as a mental health nurse and at present is working in the area of Child and Adolescent Psychiatry. Although rewarding, the job can be rather challenging at times, so in her free time Jessie loves to travel and explore new places. She has been to over 20 different Countries and still has a list longer that she wants to visit.
The key injustice that Jessie is passionate about transforming is in the area of girls' education. This isn't just access to education but all the barriers that prevent girls from accessing the quality education that they deserve. For example: period poverty, child marriage, stereotypes that girls can only do certain subjects/careers, access to mental health support and the lack of resources and role models that help propel girls towards success. She really believes that if we can educate one girl, we can educate a whole generation. We can break down barriers and bridge those gaps.
Because of GB, Jessie is the young women that she is today. Jessie truly feels empowered and can proudly say that she is more than half the girl she was 17 years ago. Jessie has come from a shy, unconfident girl with some difficulties that constantly held her back but Girls' Brigade changed that. GB really has given her endless opportunities and experiences that have enabled her to literally now live 'life to the full'. Because of GB Jessie is a hope-bringer, generation-shaper and transformer. It is wonderful to see how God is using Jessie to make the world a more fair and hope-filled place.
Jessie is excited to be part of the Delegation of Hope team because in simple terms, it means she will get to be part of an incredible opportunity that will further raise GB's platform in the international sphere. As the world's oldest Christian movement for girls GB deserves to get the recognition and to be part of the world's largest gathering of gender equality activists. Not only that but Jessie is excited about how being part of the team which will enable her to have better connections through effective networking will in turn result in an increased number of fruitful and divine connections for GB which will continue to help transform the lives of girls across the world.
Jessie hopes attending UNCSW will develop herself and help Girls' Brigade by inspiring, connecting, influencing and transforming. By being a part of the Delegation of Hope team they have a real opportunity to inspire others about the incredible 127 years of ministry amongst girls across 50 countries as well as the positive impact of Christian faith on girls' lives. Not only that but they will have the opportunity to connect with a variety of other influencers and organisations which will help GBI to build foundations for relationships and increase the potential for collaboration particularly in the area of faith and girls' rights….something that is important to GB as a faith based organisation. From this GBI will have the platform to really influence the decisions that will be made at the UNCSW as well as transform, the members of the Delegation of Hope will gain more knowledge, expertise and experience of international advocacy and campaigning which can be taken back to their local communities as well as help to lead GBI's advocacy forward.