She Speaks – Young Women on Faith, Justice and Transformational Acts
Published on February 17, 2021
Thursday 18 March, 1300-1430 GMT
On the NGO CSW65 virtual platform
(you must register here if you're planning to attend).
Using spoken word, drama and presentations, young women from Australia, Nigeria, UK and Zambia will share how they are overcoming injustices by advocating to shatter mental health stigma, improve girls' access to education, end gender-based violence and eradicate gender-specific persecution. Through mentoring and equipping facilitated by Girls' Brigade, these women are making transformational change locally and globally demonstrating how engaging young women of faith is critical in ensuring the successful implementation of Sustainable Development Goals (SDGs) and gender justice. Join us for an exciting and dynamic conversation!

The team will also be joined by Nelly Banda (Zambia) who is an accountant and she is a trained mentor for adolescent girls and an advocate for girls and women through Girls' Brigade. Nelly is to ending violence committed against women.
The session will close with a panel discussion at the end on why engaging with faith-based organisation on the issue of gender justice is important. Contributors include: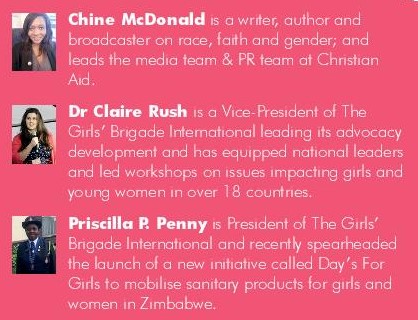 Please support the team with your prayers and by registering to join the session live: https://forms.gle/DFBwyq1u1kcvRMv1A