Soul care in the middle of a crisis
Published on May 4, 2020
Launching GB International's new soul care series, Dr Claire Rush (IVP Europe) shares how she has been looking after her soul amidst COVID-19…
Anxious, scared, overwhelmed, exhausted and uncertain.
This is how I felt the week leading up to the British Prime Minister Boris Johnson announcing that the United Kingdom would go into 'lockdown' and its citizens would only be able to leave their homes for four essential reasons.
Does it feel familiar?
For many of us across the world, life as we know it has ended abruptly. Loved ones have died; families are separated; freedom is curbed; plans have been shattered; church community has been scattered and our GB family is unable to meet.
We are experiencing grief… even those of us who have been blessed not to have been impacted by the death of a loved one.
Grief is the natural reaction to any kind of loss. And right in this moment, it seems that most of us have lost something.
Jobs. Security. Routine. Dreams. Life as we knew it.
In case you need to hear this: It's OK to not be OK right now.
Let this sink in.
Feel like your dazed and confused? Me too. It's normal to be operating at only 30% capacity. As trauma specialists have shared, we need to understand that parts of our brains have actually shut down in order for us to survive. We need to lower our self-imposed expectations and be kind to ourselves.
We're in the middle of a global grief and trauma cycle; experiencing chaos and uncertain about how and when it will stop.
And I'm going to let you in on a well-known secret: the members of the International President's Committee are not super-humans. We are just like you. We experience the same fears as you do. We're struggling too.
So with the aim of being authentic and vulnerable (which is difficult for a recovering perfectionist) let me confess this: I know that there are emails that are unanswered in my inbox and projects left unfinished.
And that's ok. I won't apologise for it because I am choosing to practice self-compassion by prioritising looking after my mind, body and soul and looking after my family.
Looking after ourselves
Your mental, physical and spiritual health are important.
How are you caring for yourself right now? For certain personality types and as a result of some cultural traditions, self care during a global pandemic may feel very selfish. But in fact as Alli Workington writes in Breaking Busy, 'Self-care is one of the most other-centred choices you can make in your life. That's because you can't live the life that God created you for, with space to be aware of his leading, if you don't take care of yourself.'
But because our lives have changed irrevocably as a result of this virus, many of our self-care strategies have also been obliterated.
Before Covid-19 hit us, when I was feeling anxious or stressed, I went to the gym, I met friends and family and I escaped to the cinema. None of these options are available to me at this moment in time.
The week before the UK lockdown began, the fear of losing these coping mechanisms was debilitating and overwhelming. But what has been amazing and encouraging is that God has wired us to adapt to a new normal.
This week, Priscilla, Betty, Quindell, Poh Imm, Renelle, Aruk, Jessie and myself (all members of the GB International team) will share some of the ways that we've been taking care of ourselves and connecting with God during this unprecedented time.
Each day, one of us will be sharing one of our soul care strategies during lockdown on the GB Worldwide facebook page. We hope and pray that it will encourage you to look after your own mental, emotional and spiritual well-being.
This will help us build good foundations so that when we're shaken, we can still stand firm.
The Lord is my strength and my shield
And let me share a taster. For me, the pandemic has provided an opportunity to strengthen my relationship with God and find new and creative ways to connect with him.
Yes, I was upset that my fitness classes where I had a chance to meet people and move my body (great for burning the stress hormone cortisol) was cancelled. But I found new and better ones online.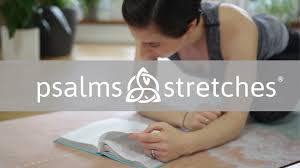 For example the amazing Psalms and Stretches, a creative new way of connecting body, soul and spirit which uses a meditative form of gentle exercise using breathing, stretching and strengthening. This really is a space where wellbeing meets worship. And even more incredible, it is facilitated by Ruth who was a former member of Girls' Brigade. Isn't it incredible to see GB members using their God-given gifts in life-giving ways?
Every Thursday evening, I move my body and reflect on this amazing Biblical truth from Psalm 28.7:
The LORD is my strength and my shield; my heart trusts in him, and he helps me. My heart leaps for joy, and with my song I praise him.
This has been real soul care. A living and moving reminder that God is my unshakeable foundation in the middle of this crisis and an encouragement to live joyfully amidst the difficulties.
God IS my strength.
And nothing, not even COVID-19, can remove my HOPE in Him.
Check out the GB Worldwide facebook page daily this week to hear how other members of the GB International team are taking care of their mental, physical and spiritual health.