Girls' Brigade cares for girls. As part of a GB global family, we want to celebrate and champion the value of girls across the world.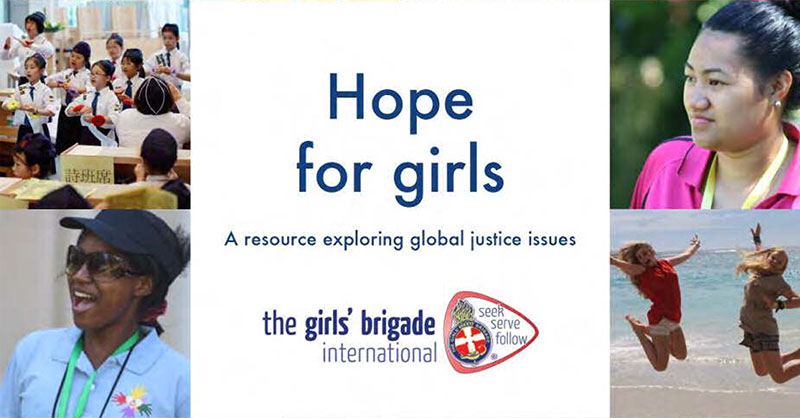 Unfortunately, in many places it is very challenging to be a girl:
But there is always hope...
God has used Girls' Brigade to give hope to many girls across the world by providing life skills, a caring family and empowering them to discover 'life to the full'. Girls like Dina from Tanzania, the winner of the GB International photo competition. Girls' Brigade has helped Dina to grow in her faith, gain an education, an income generating business, and a ministry in her own GB company. You can download her photo story here.
Girls' Brigade cares with and for this generation of silenced, oppressed, unloved, unseen, forgotten and under-valued girls and women across the world. Girls' Brigade wants to celebrate the value and potential of girls and women across the world as they're made in God's image. After all, that's what Jesus did.
A resource exploring global justice issues
Hope for Girls was created by a group of millennial 18–30s leaders who attended The Gathering 2013 in South Africa. One of the main themes to emerge from The Gathering 2013 was that this generation of millennial leaders are passionate about being advocates for hope and justice.
The complete resource, available here, features stories and videos from across the world exposing the injustices that girls face—and empowering GB members to be part of transforming their world in positive ways.
Hope for Girls is based around two principles:
The resource is perfect to use with your Brigader age group (13–18 years old.) It helps young women explore a number of social justice issues such as access to education, understanding your true worth and reproductive health.
Our hope is that together we can play our part in making the world a fairer place for everyone. Our hope is that together every person will be equally valued as a child of God regardless of gender.
Join with us as we spread hope for girls.